Catering at Lauvåsen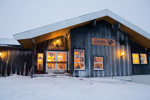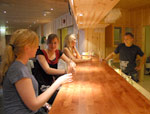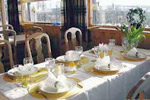 Tiurleiken
(the capercailzie mating game) This is the name of the central house at Lauvåsen, which was built in 1987 in a style that sympathetically accords with the special Lauvåsen character, and it is here that we serve super home-made food, including delicious cakes, in the most attractive surroundings.
From 'Tiurleiken' you can also enjoy a fantastic view of the Rondane and the surrounding mountain areas. Internet access available.
Cafeteria
See the front page for opening hours.
The Aquavit House
This is a new evocative gathering place with its own special atmosphere. Here we offer coffee and cakes, simple dishes, beer, wine and aquavit.
Read more
Weddings, Important Occasions, courses
'Tiurleiken' is open the year round for weddings, celebrations, courses and seminars. 110 people can be seated around the table, and the food is cooked in accordance with the best Norwegian traditions. In the downstairs room, with its crackling fire, we have a fully licensed bar and a dance floor.
A celebration at Lauvåsen is a memory for life!